Yesterday marked the 28th week for little baby H and I. I can't believe that I've been pregnant for more than half a year! Craziness, I tell you.
While there have been some ups and downs during our journey, this whole process (for the most part) has been amazing. He really is an active little bugger - constantly moving around and making sure he lets his momma know that he is there! My stomach has definitely been wigglin' and jigglin' all over the place lately. Last week I was in a meeting at work and actually had people sitting across from me stop the meeting and mention my stomach moving around like crazy. This belly and those movements cannot be masked these days.
While I have been keeping that majority of my weekly pictures and stats to close friends and family, I thought I would share some tidbits about the pregnancy since hitting this milestone has been kinda a big deal in our life lately!
Here are my current stats (and a few belly shots too!):
 
28 weeks
Note to self: Stay away from stripes and pulling my hair back!
Also - ignore the big bags under my eyes. Hard to conceal these days.
How far along? 28 weeks and 1 day
Total weight gain: 17 pounds - although at 4'10" I feel like I've gained at least half my body weight already. Been working hard at following the 80/20 rule. I have my nutritionist's motto running through my head, "no eating for two, healthier eating for one!" SO crazy that little baby H really only needs just over 400 extra calories a day for the last trimester.
Maternity clothes? All maternity pants and some maternity tops. Just got a few new things during the Thanksgiving holiday sales - SO necessary.
Stretch marks? Not yet and hopefully not ever! Gotta love the 100% Shea butter!
Sleep: My husband kindly refers to my side of the bed as the "pillow fortress." Been sleeping great once I got rid of that awful useless expensive maternity pillow. Just goes to show you don't have to buy into all this special maternity product hoopla. Makes a great little cocoon for Henry dog to snuggle in during the day though. He likes it! Normal body pillows have worked the best for me.
Best moment this week: Picking out a vintage dresser to be refinished and painted for the nursery and also receiving a sweet "just because" gift from my hubby for doing a great job growing baby. Moments like the last one don't happen too often, so when they do it's perfect and makes my heart melt. He has such a good heart (and good patience too!).
Miss anything? Prosciutto sandwiches and tuna whenever I want instead of just a tiny bit here and there. For never being much of a drinker, I've really wanted a glass of champagne (with a strawberry - of course).
Movement: See story above. I have a feeling that he is working hard at perfecting his Gangnam style after having to listen to it for weeks due to his dad's current dance obsession.
Food Cravings: Jelly doughnuts and cinnamon rolls. Sweets have consumed my thoughts all day for pretty much the last two weeks. Did I mention that I was never really a jelly doughnut fan before? Also, before this pregnancy - I'd happily take potato chips over a brownie any day. Guess this baby is gonna take after his daddy - sweeeeeeet-a-holic!
Anything making you queasy or sick: Not really that interested in red meat lately.
Gender: Boy oh boy.
Labor signs: Experienced my first braxton hicks contractions the other night. Creepy!
Symptoms: Crazy heartburn/reflux almost every day. Back pain that comes and goes. I've also been getting some leg cramps in the wee hours of the morning. But otherwise, there are times that I forget I'm pregnant!
Belly Button in or out? Still an innie but getting flatter and flatter by the day.
Wedding rings on or off? On and still a little jiggle room. So happy that I can still wear them.
Happy or Moody most of the time: Happy for the most part but have had some really emotional moments lately.
Looking forward to: A special Christmas date with Henry and Carl at the end of the week, Our friend's annual holiday gathering on Saturday, finalizing a date for my maternity shots (since our last session got rained out) and finishing our baby registry!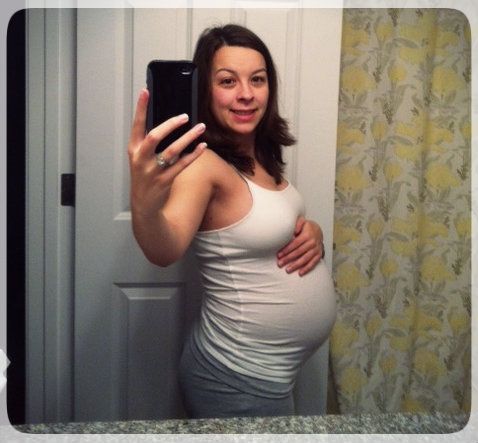 28 weeks + 1 day
I feel like I live in yoga pants and tank tops at home.
So there you have it! We are starting to nest and looking forward to little baby H's arrival in a little less than 12 weeks!! Such a amazing journey and an even sweeter blessing. We can't wait to meet him.
I hope you are all having a fabulous week. Now that my sweet tooth has arrived, hopefully I'll be back to posting some new holiday treats in the days/weeks to come!