Truth be told - two weeks ago, I had this entire post finished. It was late at night - I was stressed out with a bazillion things on my mind. Carl had tried to entice me to put down the computer and watch Home Alone with him - a movie date (LOVE that movie)! I told him that I just had to finish this post. 15 minutes later he fell asleep (some date!) and shortly thereafter, I went to click publish and then my computer did some weird wacky thing and then last thing I knew that post was wiped clean. I mean not a single freakin' word left. There was no way to recover what was lost. It had taken me 2+ solid weeks to get this post done working alongside the chaos that is my life right now. In the flash of a second - it was gone and I was really sad. Heck, I am still sad but I guess today I've decided to make lemonade out of lemons and surge on.
Anyway - For those of you who didn't hear already:
Little Baby Hartford is a...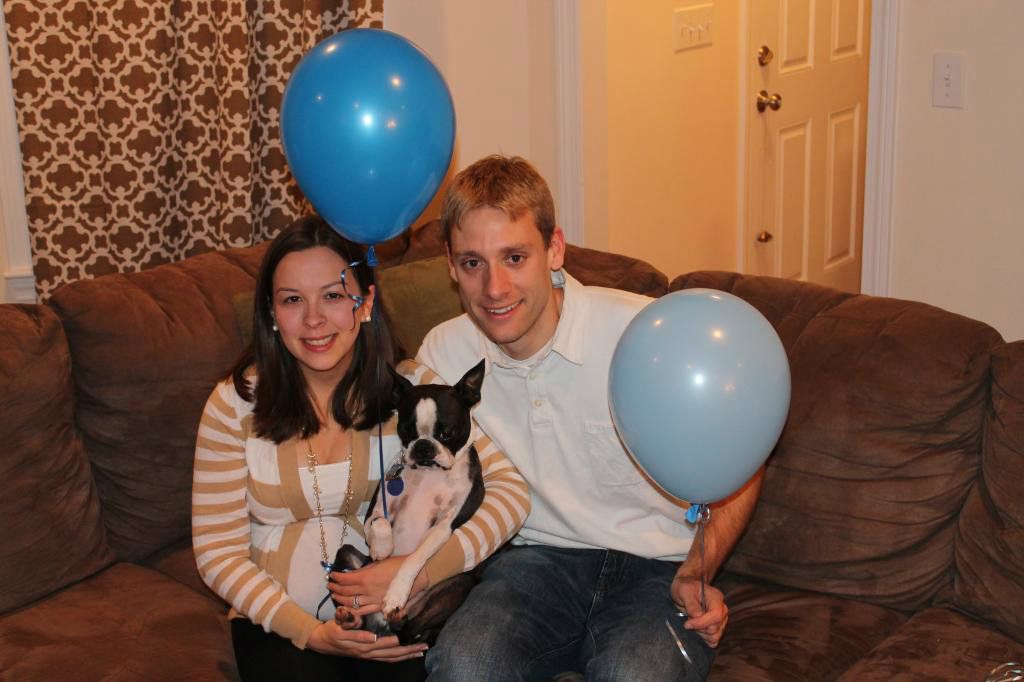 BOY

!
Carl and I are beyond thrilled and happy. Carl so desperately wanted a boy and I really wanted that for him. He never asks for much, so I was hoping his wish would come true. Truth is, we are lucky and blessed and really would have been happy with either as long as they are healthy. The day we found out was really exciting and I would be lying if I said we didn't shed any tears ;) The toughest part was keeping it a secret for almost six weeks. I only slipped once! and the person must have not noticed because they were on team Pink!
...and now it's official - I will finally be outnumbered in my house.. by humans! Although Henry love bug is pretty much a human anyway.
As for the big party -
Our gender reveal party was a wonderful day. We had our closest and dearest friends and family present and it was an all around fantastic day.
The menu was Italian and consisted of:
Baked ziti

Roasted sausage, potatoes, peppers and onions

Homemade marinara sauce

Bruschetta

Strombolli

Pizza bites

Homemade Garlic Knots (A Carl specialty)

Italian meats, cheese and crackers

Assorted olives

Vanilla and double fudge cupcakes

Pumpkin whoopie pies

and my MIL's chocolate whoopie pies
I'm sure I'm probably missing a few other things in there - but that was the basic gist of it.
I really wanted to face plant myself into this delicious italian meat platter. MY WEAKNESS! Carl has been informed that I want NEED a proscuitto sandwich T minus 30 minutes after I give birth!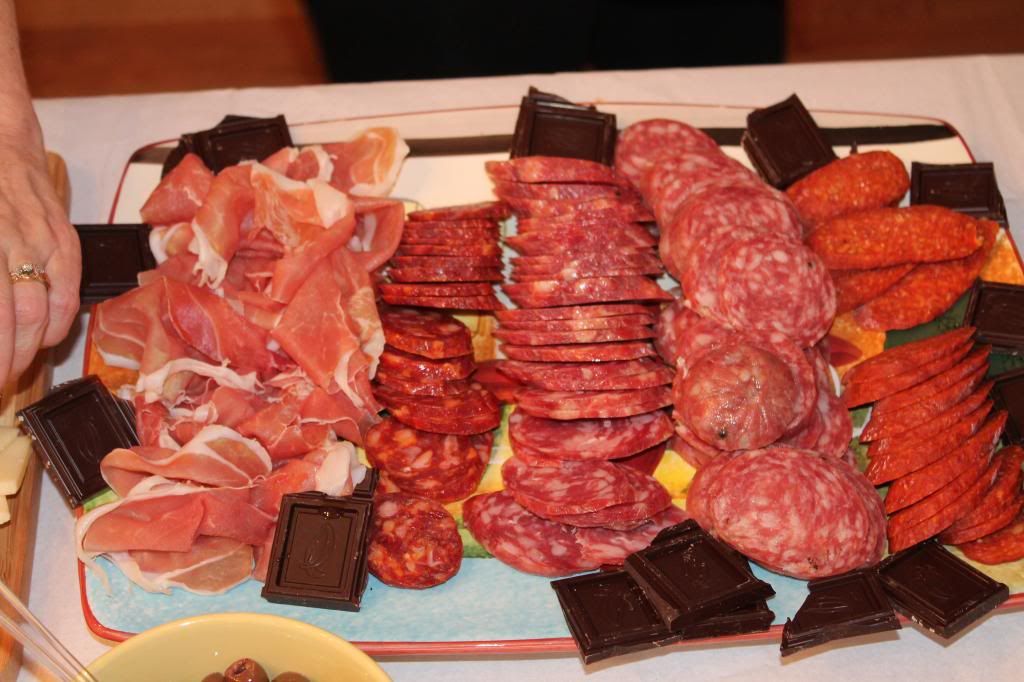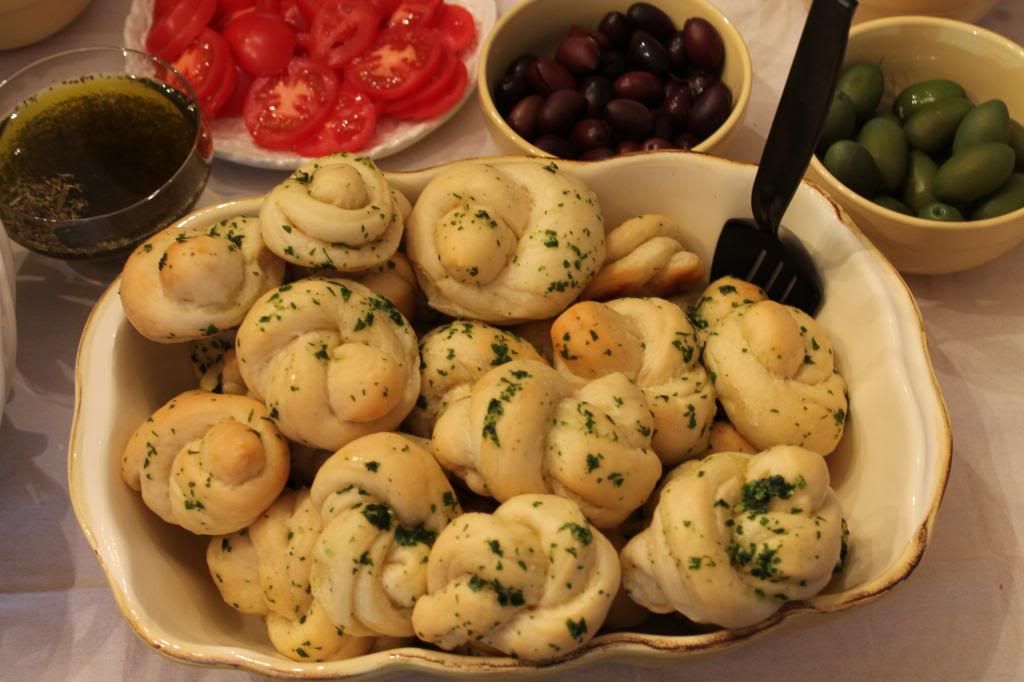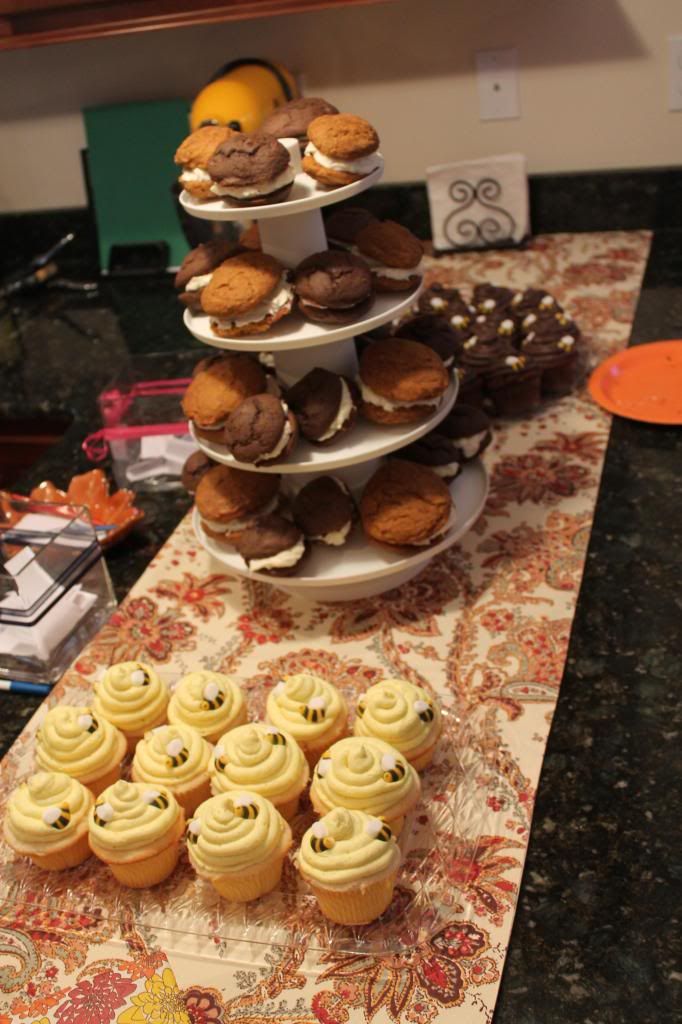 What will little baby Hartford bee? A baby He or a baby She?! I loved making these cute little behive cupcakes. I also loved eating them... especially the chocolate ones.
The guests were encouraged to wear their color of choice and it was really fun to see people show up wearing blue and/or pink. Team boy was definitely winning the numbers contest but where team pink lacked in numbers, they made up in style! I mean - little girls in pink fluffy dresses?! SWOON!
Here were the teams:
Team Blue (plus a few really cute team pink triplets and Juliet!):
Team Pink:
As far as the actual reveal went, we had everyone count down from ten and then released a balloon for the gender that was not correct. We were then left holding the gender of our sweet little babe.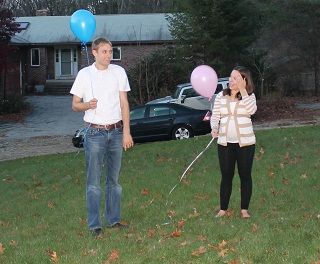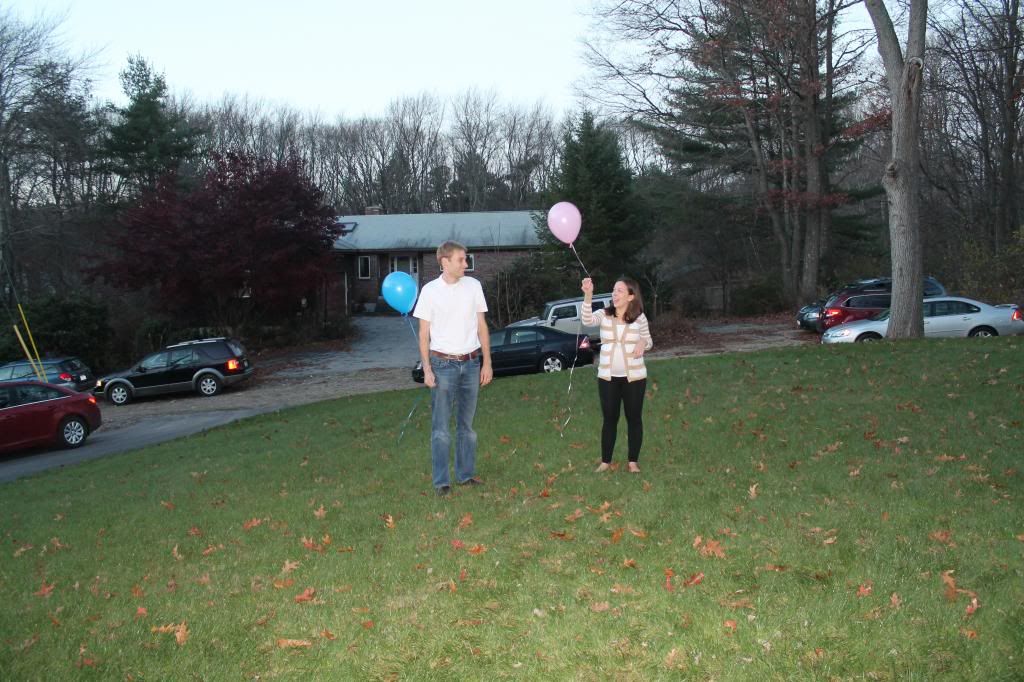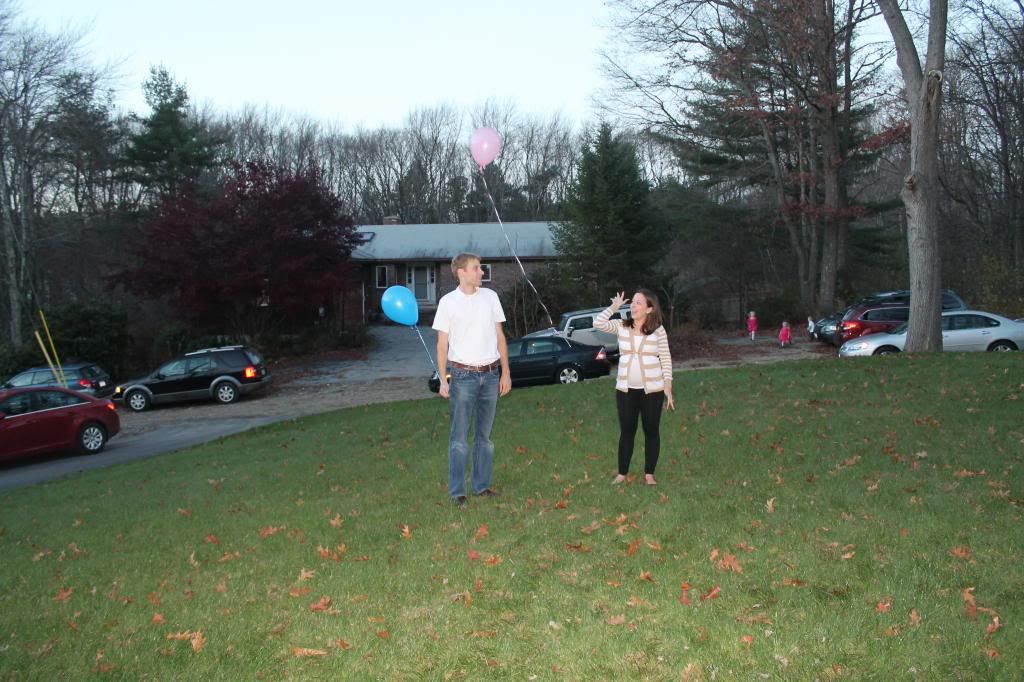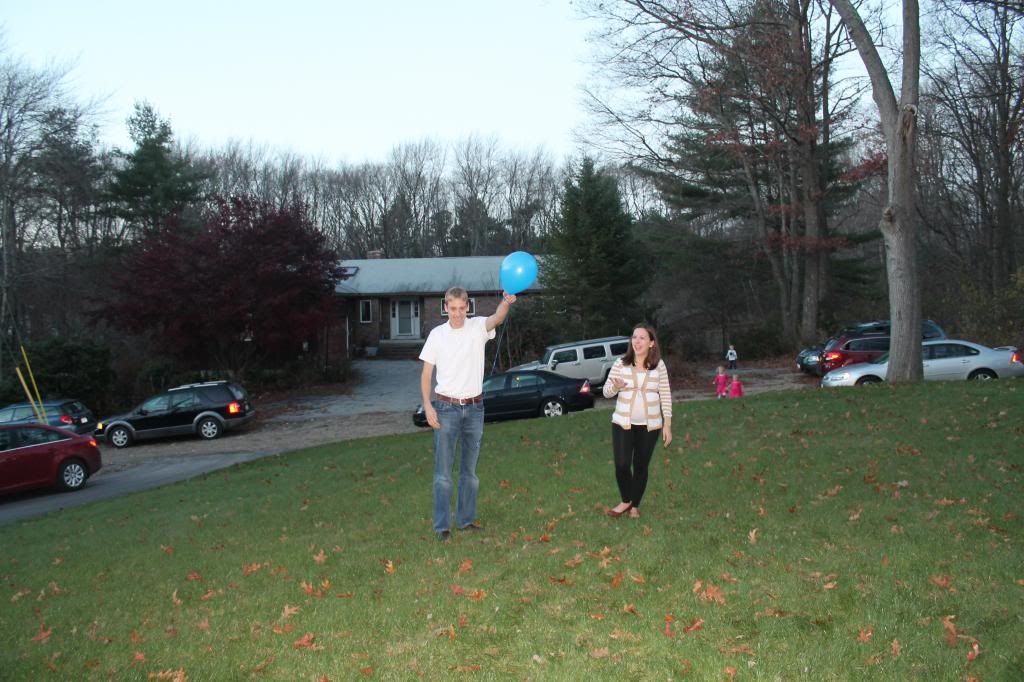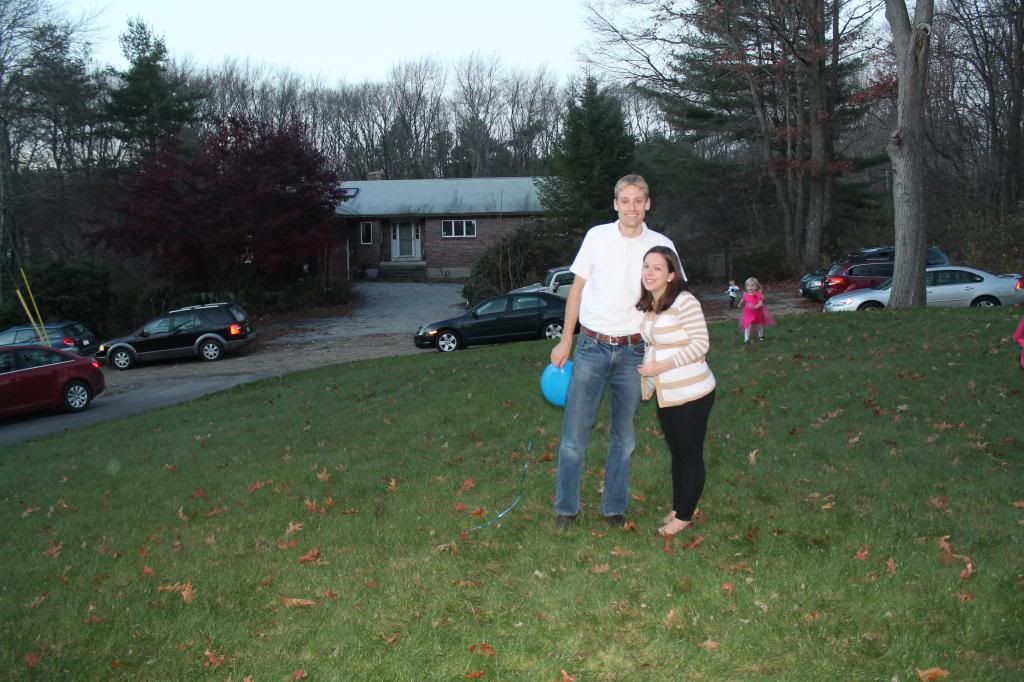 Team Blue (minus a few) celebrates the victory:
I also had a little contest going on here on the blog. Remember
this post
!?
Well the opposite happened on the blog. Team pink far outnumbered team blue. Carl and I loved reading all of the comments that people left. It was so exciting especially because we just wanted to shout it from the rooftops instead of keeping mum for so long.
The individuals that correctly voted boy were:
1 - Aireen Arellano
2 - Diana J.
3 - Carrie Hartford Fedders
4 - Diana Cardella
5 - Meg Trimarchi
6 - Charlotte
7 - Jimbo
8 - Cupcake Kelly
All the correct entries were entered into a little raffle to win a $10 gift certificate to Dunkin Donuts or Starbucks (winner's choice).
And the lucky winner is....
Congratulations, Charlotte!! Please e-mail me at
bakingitonmyown@gmail.com
and let me know your preference of gift card.
Thank you, again, to all who voted.
Happy Thursday. Just remember - tomorrow is Friday. Yipeey!