I feel like I've hit the mommy jackpot with this recipe. Not only is it healthy and delicious but it is a major time-saver - and these days, those types of things are certainly speaking my love language. Also, this recipe is geared towards mini muffins which makes them really easy to pack in lunch boxes and to hold in little hands. The original recipe is from one of my go-to toddler cookbooks: "

Baby & Toddler - On the Go

." I have slightly modified the recipe for our taste.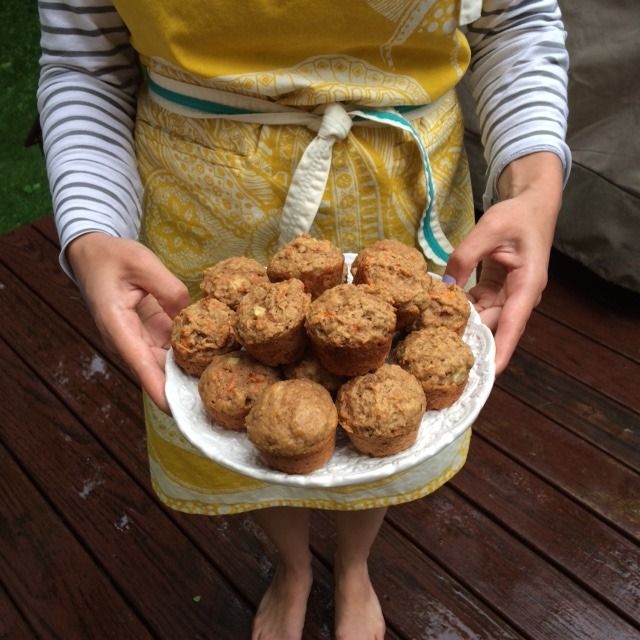 The concept behind "make-ahead" muffins is the master muffin dry mix! This recipe makes four separate batches of 14-16 mini muffins OR two batches of 24 muffins. You mix all of the dry ingredients together and store in an airtight container in the fridge. Having the dry mix already taken care of allows me to throw together (and bake) fresh muffins for toddler breakfasts + snacks in less than 20 minutes - each week. I modify the flavor every week using different mix-ins which keeps those little toddler taste-buds excited! This recipe is also perfect for baking and freezing - which comes in especially handy when we are away traveling for the weekend and our Sunday prep is non-existent.
As mentioned in my

lunchbox post

- last week I made banana cinnamon. This week, we had some extra carrots and apples from our CSA box, so I decided to make some apple carrot spice muffins. Both, as expected, were a big hit and it just warms my heart when Benjamin asks for muffins and tells me how yummy they are - "so good, mommy, so good in my tummy!" I hope these are a hit in your house as well!
_____________________________________________________
Makes
4
batches of 14-16 mini muffins
or
2 batches of 24 mini muffins
Master Muffin Dry Mix:
1 and 1/2 cups all-purpose flour
2 cups whole wheat flour
3/4 cup wheat bran
4 teaspoons baking powder
1 teaspoon baking soda
1/2 teaspoon salt
3/4 cup light brown sugar
Whisk together all ingredients in a bowl until well blended. Store in a plastic ziploc bag in the refrigerator for up to a month.
Banana Cinnamon Variation (Wet Mix):
1 large egg, lightly beaten
2 tablespoons canola oil
1/4 cup plain-whole milk greek yogurt
1/2 teaspoon pure almond extract
1/4 teaspoon ground cinnamon
1/2 cup mashed banana
+ one cup master muffin mix
Apple Carrot Variation (Wet Mix):
1/4 cup shredded carrot
1/4 cup diced apple
1 large egg, lightly beaten
2 tablespoons canola oil
1/4 cup plain-whole milk greek yogurt
1/4 cup applesauce
1/2 teaspoon pure vanilla extract
1/4 teaspoon ground cinnamon
1/8 teaspoon pumpkin pie spice
+ one cup master muffin mix
Preheat the oven to 400*F. Spray a 24-cup mini muffin pan with cooking spray or line with paper liners.
In a bowl, beat together the wet ingredients. Add the master muffin mix and stir until just evenly moistened. The batter will be thick.
To ensure even distribution - use a
medium (1.5 tablespoon) cookie scoop
to portion batter into the prepared muffin cups. Bake until the muffins are golden brown and a toothpick inserted into the center of the muffin comes out clean - approximately 13 minutes. Let the muffins cool in the pan on a wire rack for about 5 minutes, then transfer to the wire rack to cool.
Store in an airtight container in fridge for one week and/or seal in a Ziploc bag and freeze for up to 3 months. Enjoy!
NOTE: If you are making just one batch of this mix and using a 24 mini muffin cup pan you will have empty cups (since a single recipe usually yields approximately 14-16 mini muffins). For each empty cup, fill half way with water as to ensure even cooking for the filled cups and also not to ruin your pan! :)
Click
here
for a printable version of this recipe.
______________________________________________________
Until next time... I'll leave you with this delicious morsel! #nomnomnom
PS: This post is not sponsored; it simply contains a few of my all-time favorite products in which an occasional Amazon affiliate link may be associated.